JURA X10 PLATINUM 
The New Jura X10 (known by some as JX10) takes the hugely popular JX8 and adds a colour touchscreen for quicker, easier access to 31 speciality drinks together with the facility to create multiple duplicates of a speciality drink with different settings and a different name.
It also features an extended bean hopper capable of holding 1kg of freshly roasted coffee beans.
All this makes the X10 a very attractive prospect not only for small commercial outlets and offices but equally for high-end luxury domestic kitchen use.
Water supply: Built-in 5l Water Tank.

Suggested capacity: 100 cups per day.
Price-match
We will do our best to price-match any Genuine UK supplier. Please give us a call on
01892 322007
or use the
Contact Form
to get in touch.
Warranty



The Jura X10 comes with standard manufacturers 12 months commercial warranty. If required you can buy additional warranty (up to 5 years) HERE.
Installation
The Jura  X10 is quite easy and intuitive to set-up due to its on-screen guidance on initial start-up. However, if you would prefer to have it set-up by a Jura technician, this can be arranged HERE.

Package
New Jura X10
Jura Cool Control if selected from options in the drop-down
Jura Cooler Housing (sits next to the machine) with space inside for cool control & care products 
3kg of Caffé-Select Coffee Beans
State-of-the-art technologies for perfect enjoyment
The Professional Aroma grinder is a top-class innovation that delivers the high grind quality over its entire service life and 12.2%* more aroma. 
The Pulse Extraction Process (P.E.P.®) ensures the optimum extraction time for short specialities and delivers a taste explosion for ristretto and espresso.

The One-Touch Lungo function delivers particularly delicious long speciality drinks, enabling you to add hot water to a perfectly extracted coffee like a professional barista.
The X10 features a height-adjustable dual spout, which finishes off-trend specialities with milk and milk foam to perfection thanks to fine foam technology. 
Modern graphics that are easy to understand mean that even first-time users will be able to navigate to exactly what they want. Different speciality coffees can be programmed and given names according to your needs. 
*Professional Aroma Grinder compared with conventional grinders
TÜV-certified hygiene guarantee
Maintenance of the Jura X10 is just as easy as operation. Integrated rinsing and cleaning programmes, used in combination with original JURA maintenance products, ensure TÜV-certified hygiene and cleanliness. Even the milk system in the X10 is cleaned automatically at the touch of a button. The solid dual spout can be dismantled in just a few easy steps. The milk spouts at the front are readily accessible and easy to replace if necessary.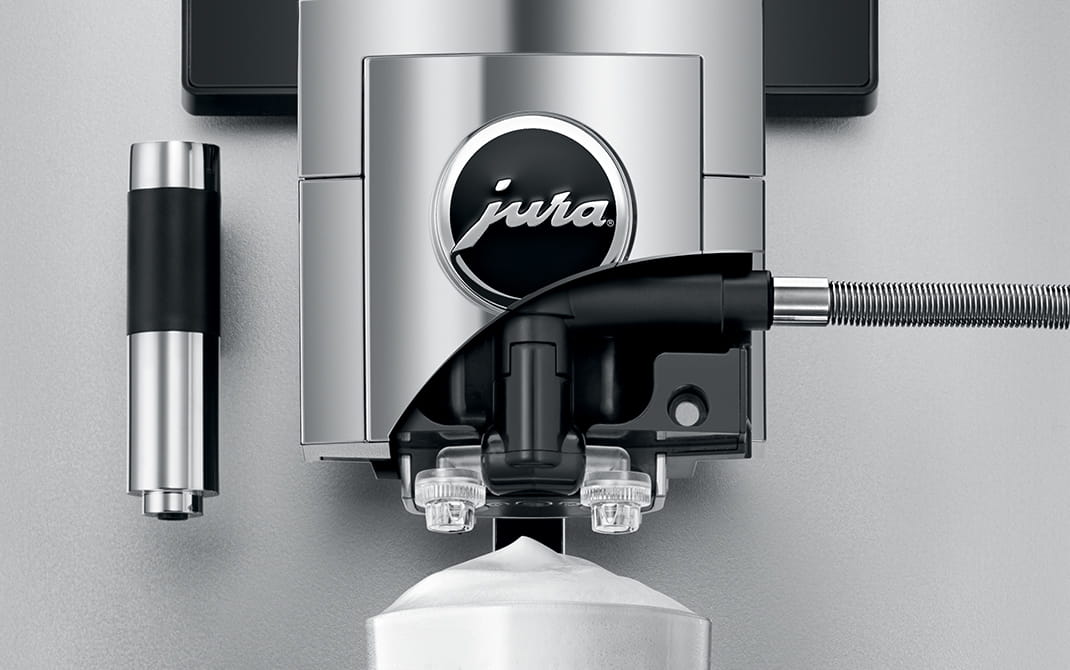 As individual as your requirements
The Jura X10 can be combined with additional coffee machines and elegant accessories such as the cup warmer, cool control or accounting system, making it the ideal basis for complete, tailor-made coffee solutions in a wide range of areas.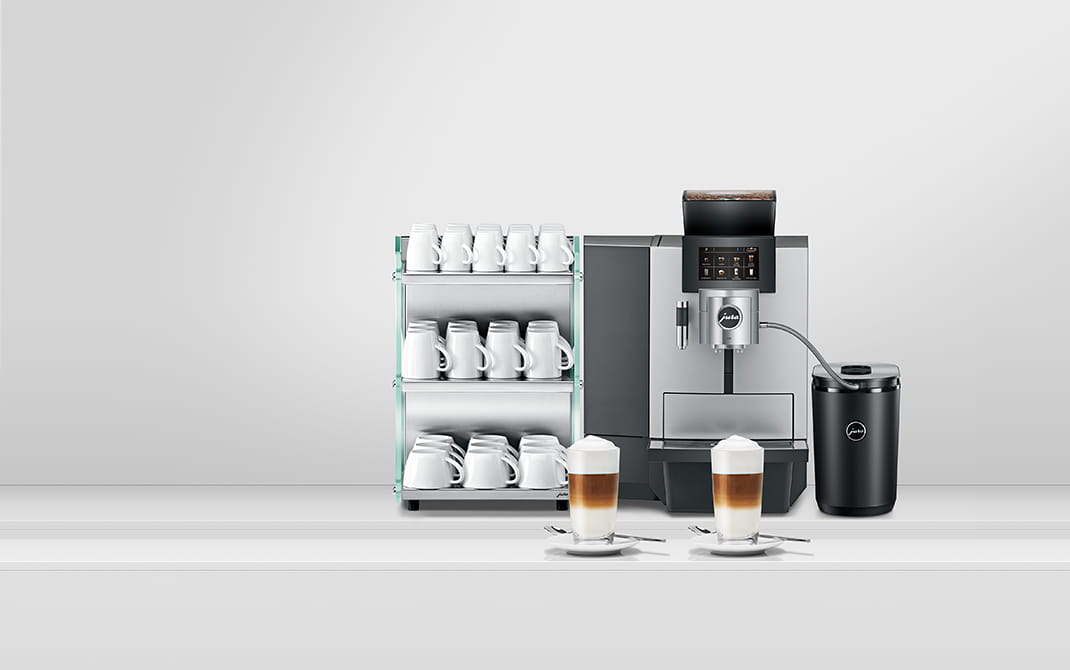 Areas of use and recommended maximum daily output

Recommended maximum daily output

80

Areas of use

Self-service areas
Service provider
Reseller
Specialities

Products

Ristretto
2 x Ristretto
Espresso
2 x Espresso
Coffee
2 x Coffee
Cappuccino
2 x Cappuccino
Caffè latte
2 x Caffè latte
Caffè Barista
2 x Caffè Barista
Lungo Barista
2 x Lungo Barista
Espresso doppio
Macchiato
2 x Macchiato
Latte macchiato
2 x Latte macchiato
Flat white
2 x Flat white
Portion of milk foam
2 x Portion of milk foam
Portion of milk
2 x Portion of milk
Pot of coffee
Hot water
Hot water for green tea
Hot water for black tea
Special coffee
2 x Special coffee

Pot of espresso-quality coffee

Yes

Hot water function

Yes

Pot of coffee (360 ml / 12 oz.)

2 min. 20 sec.

2 latte macchiati

1 min. 50 sec.

2 cappuccini

1 min. 18 sec.

2 Flat Whites

1 min. 35 sec.

2 caffè latte (cafés au lait)

1 min. 34 sec.

2 coffees

1 min. 3 sec.

2 espressi

48 sec.

2 ristretti

33 sec.

Hot water (200 ml / 7 oz.)

50 sec.
Specific advantages

| | |
| --- | --- |
| Number of products | 31 |
| One-Touch Lungo function | Yes |
| One-Touch function | Yes |
| Intelligent Water System (I.W.S.®) | Yes |
| Automatic switchover from milk to milk foam | Yes |
| Compatible with J.O.E® | Yes |
| Wireless ready | Yes |
| Smart Connect supplied as standard | Yes |
| Hot water | 0,24 l / Min |
| Generating code groups | Yes |
| Active bean monitoring | Yes |
| Monitored drip tray | Yes |
| Aroma preservation cover | Yes |
JURA standards

| | |
| --- | --- |
| Pulse Extraction Process (P.E.P.®) | Yes |
| Variable VC brewing unit | 5 - 16 g |
| Intelligent Pre-Brew Aroma System (I.P.B.A.S.©) | Yes |
| Grinder | Professional Aroma Grinder |
| High-performance pump, 15 bar | 1 |
| Thermoblock heating system | 2 |
| Fluid systems | 1 |
| JURA fine foam technology | Yes |
| Milk system | HP3 |
| Maintenance status display | Yes |
| Integrated rinsing, cleaning and descaling program | Yes |
| Integrated milk system rinsing and cleaning programme | Yes |
| JURA hygiene: TÜV-certified | Yes |
| Filter cartridge | CLARIS Pro Smart & CLARIS Pro Smart maxi |
| Energy Save Mode (E.S.M.©) | Yes |
| Zero-Energy Switch or power switch | Yes |
Settings and programming options

| | |
| --- | --- |
| Programmable and individually adjustable amount of water | Yes |
| Programmable and individually adjustable coffee strength (Levels) | 10 |
| Programmable milk / milk foam temperature (Levels) | 10 |
| Programmable brewing temperature | 2 |
| Programmable amount of milk / milk foam | Yes |
| Hot water temperature can be programmed in levels | 3 |
| Resettable day counter | Yes |
| Shows the number of preparations for each individual product | Yes |
Design and materials

| | |
| --- | --- |
| Display | Touchscreen colour display |
| Amber / white cup illumination | Yes |
| Sound design | Yes |
In figures

| | |
| --- | --- |
| Height-adjustable dual spout | 65 - 153 mm |
| Water tank capacity | 5 L |
| Bean container holding capacity | 1 kg |
| Coffee grounds container (servings) | 40 |
| Cable length | 1.2 m |
| Voltage / Power | 220- 240 V ~ / 1450 W |
| Current | 10 amp |
| Stand-by power | < 0.5 Watt |
| Weight | 14 kg |
| Width | 37.3 cm |
| Height | 52.4 cm |
| Depth | 46.1 cm |
| Article Number | 15277 |