JURA GIGA X8 Gen 2  Aluminium Chrome 
The
Jura GIGA X8
Generation 2
  - Jura's newest flagship commercial bean-to-cup coffee machine is a demonstration of Swiss professionalism and innovation down to the very last detail. It is filled with features and the latest technology to make it the premium choice for businesses. Coupled with top performance in every respect, this results in a high-tech automatic coffee machine which is ideally tailored to the requirements of the office floor, seminar, catering and Coffee to Go solutions.
Furthermore, the Jura App "J.O.E" can be used with any smartphone or iPhone to allow "contactless" use of the Jura GIGA X8, which is proving very popular. Simply place your cup under the outlet and use the app to select and personalise your drink and it can be dispensed without any need to touch the machine.
Water supply: Built-in 5l Water Tank
Suggested capacity: 200 cups per day.
Price-match
We will do our best to price-match any Genuine UK supplier. Please give us a call on 01892 322007 or use the Contact Form to get in touch.
Warranty
The Jura GIGA X8 comes with a standard manufacturer 24-month on-site parts and labour commercial warranty. If required, you can buy additional warranty (for up to 4 years) HERE. 
Installation
The Jura GIGA X8 is quite easy and intuitive to set-up due to its on-screen guidance on initial start-up. However, if you would prefer to have it set-up by a Jura technician, this can be arranged HERE.
Leasing
Businesses can also benefit from the availability of attractive leasing options to spread the cost over 24, 36, 48 or even 60 months allowing them to obtain higher specification equipment while also benefitting from the tax advantages associated with leasing. You can lease purchase Jura GIGA X8 package
from £111.16 
a month. More information can be found
HERE
.
Package:
Built for maximum performance
As the name suggests, this is the second generation GIGA X8 and has been completely redesigned from the ground up, focusing on the needs of the professional sector. The Swiss engineers have been predictably meticulous in the attention to all areas of the machines' internal and external workings, culminating in their most advanced machine to date: 
The dual spout has been re-designed with the needs and requirements of professional users in mind by placing the coffee outlets behind the milk outlets. It gives easier access to the milk frother and removes the tendency for the coffee outlets to be broken off when cleaning.
The dishwasher-proof drip tray can quickly and easily be removed and emptied with just one hand.
The 4.3inch high-resolution touch display is intuitive and simple to operate while enabling maximum flexibility.
State-of-the-art  technologies for perfect enjoyment

It's all inside the new GIGA X8: Two high-performance ceramic disc grinders guarantee reliable grinding results for many years which are sure to be precise, consistent and even. A top innovation provides that extra special something: A.G.A.© (Automatic Grinder Adjustment) – the electronically controlled automatic readjustment system. The Pulse Extraction Process (P.E.P.®) optimises the extraction time for short specialities and CLARIS Pro Smart delivers perfect water quality for a pure taste in combination with the Intelligent Water System (I.W.S.®).

The GIGA X8 features a sophisticated height-adjustable dual spout, which finishes off trend specialities with milk and milk foam to perfection thanks to fine foam technology. The speed function ensures speciality coffees in record time.
Increased power combined with the highest quality – that's the new GIGA X8. The concise, 4.3" high-resolution touchscreen colour display is both easy to understand and completely intuitive. The dishwasher-proof drip tray can easily be removed, emptied and reinserted with just one hand. The centre of gravity is ideally located to prevent any spillages. Simple, clean, quick, convenient – this 5-star concept is incorporated down to the very last detail.
TÜV-certified hygiene guarantee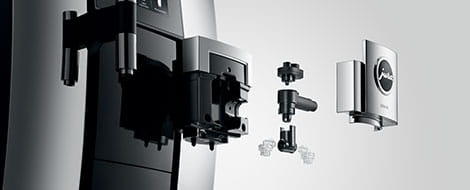 The maintenance of the new GIGA X8 is just as straightforward, logical and intuitive as its operation. Original JURA maintenance products and integrated rinsing and cleaning programmes ensure TÜV-certified hygiene at the touch of a button. The milk system is also very easy to clean. The fully automatic process is started with just a touch on the display and ensures perfect cleanliness. The solid dual spout can be dismantled in just a few easy steps. The milk spouts at the front are readily accessible and easy to replace if necessary.
As individual as your requirements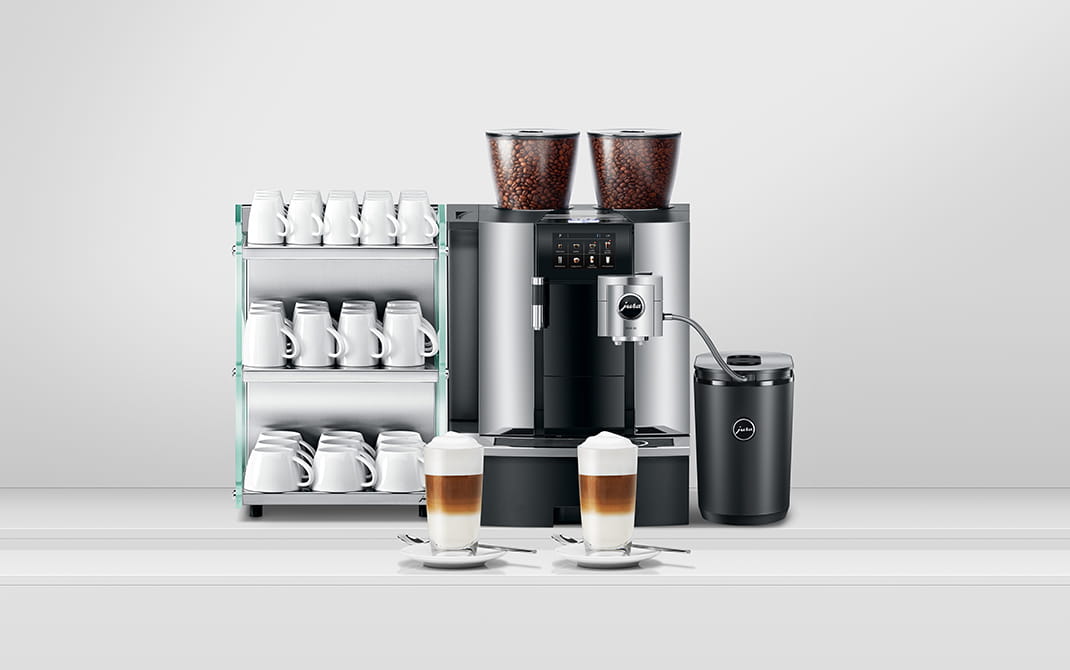 Whether operated as an individual automatic coffee machine or enhanced with suitable accessories such as cup warmers or an accounting system, for example, the GIGA X8 can be used to configure the perfect complete coffee solution for any application. It can also conveniently adapt to increasing requirements.
| | |
| --- | --- |
| Variable brewing chamber | 5 - 16 g |
| Intelligent Pre-Brew Aroma System (I.P.B.A.S.©) | Yes |
| Intelligent preheating | Yes |
| Active bean monitoring | Yes |
| Energy Save Mode (E.S.M.©) | Yes |
| High-performance pump, 15 bar | 2 |
| Thermoblock heating system | 2 |
| Fluid system | 2 |
| Monitored drip tray | Yes |
| Maintenance status display | Yes |
| Integrated rinsing, cleaning and descaling program | Yes |
| Adjustable water hardness | Yes |
| One or two cups of espresso in one brewing operation | Yes |
| JURA hygiene: TÜV-certified | Yes |
| CLARIS water-filtering system | Yes |
| Zero-Energy Switch or power switch | Classic |
| Swiss made | Yes |
Specialities

Number of products

32

Products

1 ristretto
2 ristretti
1 espresso
2 espressi
1 coffee
2 coffees
1 cappuccino
2 cappuccini
1 caffè latte
2 caffè latte
1 Caffè Barista
2 Caffè Barista
1 Lungo Barista
2 Lungo Barista
1 Espresso doppio
1 espresso macchiato
2 espressi macchiati
1 latte macchiato
2 latte macchiati
1 flat white
2 flat whites
1 portion of milk foam
2 portions of milk foam
1 portion of milk
2 portions of milk
Pot of coffee
Hot water
hot water for green tea
Hot water for black tea
ground coffee
1 special coffee
2 special coffees

Pot of espresso-quality coffee

Yes

Hot water function

Power hot water system

Additional preground coffee powder

Yes

Pot of coffee (360 ml / 12 oz.)

1 min. 54 sec.

2 latte macchiati

1 min. 26 sec.

2 cappuccini

1 min. 15 sec.

2 Flat Whites

1 min. 26 sec.

2 caffè latte (cafés au lait)

1 min. 7 sec.

2 coffees

58 sec.

2 espressi

53 sec.

2 ristretti

35 sec.

Hot water (200 ml / 7 oz.)

27 sec.
Advantages

| | |
| --- | --- |
| Compatible with J.O.E® | Yes |
| JURA fine foam technology | Yes |
| Milk or milk foam preparation | Yes |
| Grinder type | Electrically adjustable ceramic disc grinder |
| Number of grinders | 2 |
| Pulse Extraction Process (P.E.P.®) | Yes |
| Powder chute for ground coffee | Yes |
| Powder recognition for additional ground coffee variety | Yes |
| A la carte bean selection | Yes |
Settings and programming options

| | |
| --- | --- |
| Programmable amount of water | Yes |
| Amount of water can be adjusted for each preparation | Yes |
| Programmable coffee strength in levels | 10 |
| Coffee strength can be adjusted for each preparation | Yes |
| Programmable brewing temperature | 3 |
| Programmable amount of milk | Yes |
| Hot water temperature can be programmed in levels | 3 |
| Programmable amount of hot water | Yes |
| Rotary Switch | Yes |
| Individualized productname | Yes |
| Resettable day counter | Yes |
| Programmable switch-on time | Yes |
| Programmable switch-off time | Yes |
| Shows the number of preparations for each individual product | Yes |
| Integrated milk system rinsing and cleaning programme | Yes |
| Automatic milk rinse | Yes |
| Remaining time display | Yes |
| Generating code groups | Yes |
Design and materials

| | |
| --- | --- |
| Display | TFT-Touchscreen-color display |
| Height-adjustable dual spout (Milk/Coffee) | 70 - 159 mm |
| Hot-water spout | Yes |
| Height-adjustable hot water spout | 69 - 165 mm |
| Cup illumination | White and amber |
| Separate water tank for descaling | Yes |
| Sound design | Yes |
Areas of use and recommended maximum daily output

Recommended maximum daily output

200

Areas of use

Own usage
Service provider
Reseller
In figures

| | |
| --- | --- |
| Coffee grounds container (servings) | 40 |
| Numbers of bean containers | 2 |
| Capacity of bean container with aroma preservation cover | 650 g |
| Cable length | 1.1 m |
| Voltage | 220 - 240 V ~ |
| Current | 10 amp |
| Frequency | 50 hz |
| Power | 2700 Watt |
| Permanent water connection | integrated (G 3/4") |
| Accounting systems | compatible |
| Stand-by power | < 0.5 Watt |
| Weight | 19 kg |
| Width | 32 cm |
| Height | 56.5 cm |
| Depth | 49.7 cm |
| Article Number | 15227 |
Liquid error: Error in tag 'section' - 'related-products-jura' is not a valid section type