Jura WE6 Piano Black
The
Jura WE6
like its big brother the WE8 is aimed squarely at the small office/retail outlet where customer numbers are high enough to necessitate a high-quality bean to cup coffee machine, and yet low enough that a big budget simply cannot be justified against smaller returns than perhaps a larger outlet may achieve.
The WE6 expertly prepares the full range of black coffee specialities without a milk option, so is better placed where there is either no requirement for milk specialities or milk is available from another source, such as the Jura Automatic Milk Frother available separately.
Water supply: Built-in 3l Water Tank
Suggested capacity: 30 cups per day
Lease Jura WE6 from £27.95 a month
Price-match
We will do our best to price-match any Genuine UK supplier. Please give us a call on 01892 322007 or use the Contact Form to get in touch
Warranty
The 
Jura WE6
 comes with manufacturer 12
-month on-site parts and labour commercial warranty.  
If required, you can purchase additional warranty 
HERE
Leasing
Businesses can also benefit from the availability of attractive leasing options to spread the cost over 24, 36, 48 or even 60 months allowing them to obtain higher specification equipment while also benefitting from the tax advantages associated with leasing. More information can be found 
HERE
Package
Jura WE6 Piano Black 
2 kg Caffé-Select Coffee Beans

12 months official UK warranty

 
State-of-the-art technologies for perfect enjoyment
The WE6 offers 8 different specialities. JURA has perfected the complete brewing process for short speciality coffees, allowing the WE line to make them to professional barista standard every time. The six-level Aroma G3 grinder ensures that the coffee is optimally ground. It always grinds the beans fresh, quickly yet gently to preserve the aroma. The variable brewing unit has a capacity of 5 to 16 grams and ensures the ideal brewing conditions at all times. The Pulse Extraction Process (P.E.P.®) developed by JURA optimises the extraction time. To make a ristretto or espresso, it forces the hot water through the ground coffee at short intervals.
TÜV-certified hygiene guarantee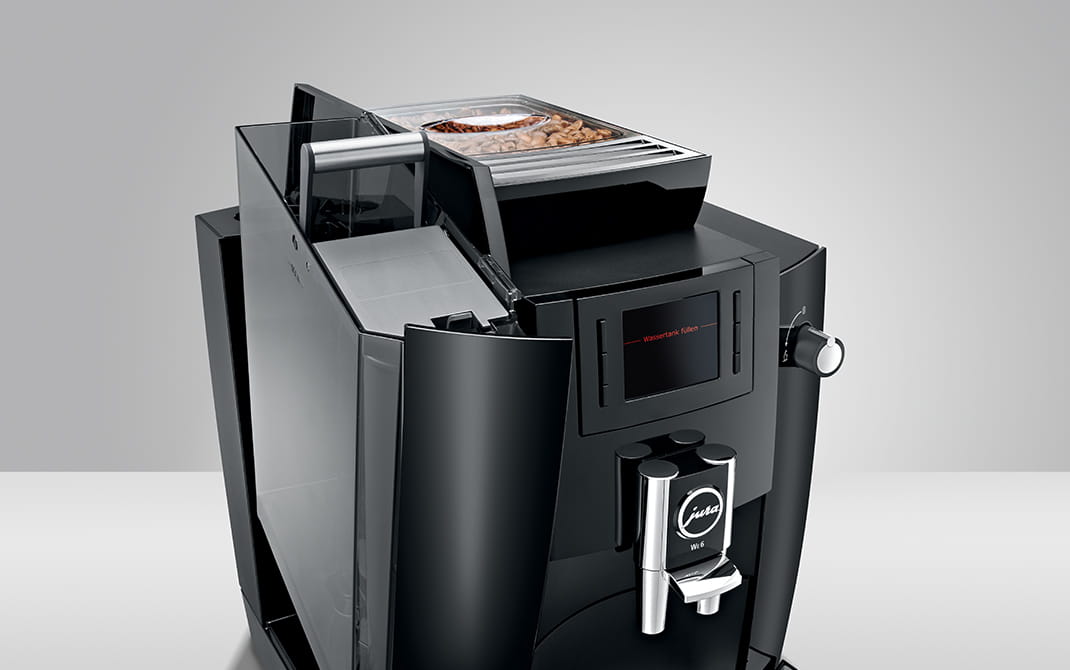 Cleanliness and hygiene are essential in the workplace, so integrated rinsing and cleaning programmes combined with specially developed cleaning products for JURA coffee machines ensure perfect hygiene at the touch of a button – it is even certified by TÜV Rheinland, makes the WE6 an excellent choice for premises which operate an HACCP* concept.
* Hazard Analysis and Critical Control Points
As individual as your requirements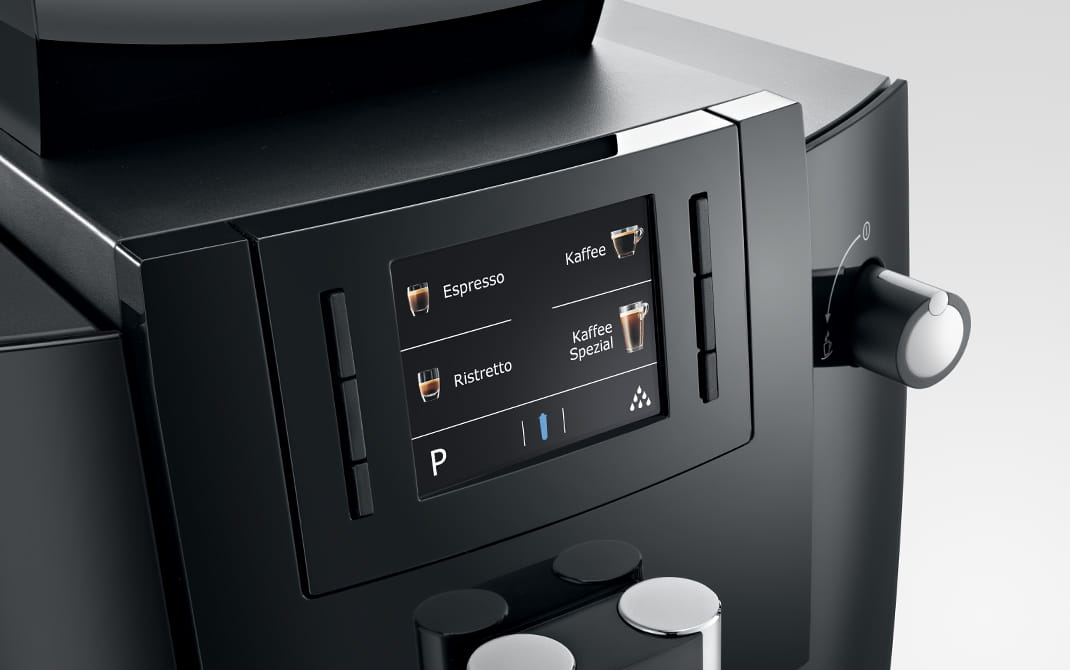 Because requirements vary from one situation to another, the WE6 comes with many options for programming and customisation. The amount of ground coffee and water can be adapted to suit personal preferences and the cups and glasses used. It is also possible to give preference to certain speciality coffees by disabling others. Various modes are available on request that only allow presettings and cup volumes to be changed after entering a certain key combination. This prevents any mistakes from being made.
JURA Standards

| | |
| --- | --- |
| Variable brewing chamber | 5 - 16 g |
| Intelligent Pre-Brew Aroma System (I.P.B.A.S.©) | Yes |
| High-performance pump, 15 bar | 1 |
| Thermoblock heating system | 1 |
| Fluid system | 1 |
| Monitored drip tray | Yes |
| Maintenance status display | Yes |
| Integrated rinsing, cleaning and descaling program | Yes |
| Adjustable water hardness | Yes |
| One or two cups of espresso in one brewing operation | Yes |
| JURA hygiene: TÜV-certified | Yes |
| Filter cartridge | CLARIS Pro Smart / CLARIS Smart |
| Zero-Energy Switch or power switch | Classic |
Specialities

Number of products

8

Products

1 ristretto
2 ristretti
1 espresso
2 espressi
1 coffee
2 coffees
Hot water
1 special coffee

Hot water function

3 levels

2 coffees

1 min.

2 espressi

45 sec.

2 ristretti

30 sec.

Hot water (200 ml / 7 oz.)

45 sec.
Advantages

| | |
| --- | --- |
| Compatible with J.O.E® | Yes |
| Smart Connect compatible | Yes |
| Grinder type | |
| Number of grinders | 1 |
| Pulse Extraction Process (P.E.P.®) | Yes |
Settings and programming options

| | |
| --- | --- |
| Programmable amount of water | Yes |
| Amount of water can be adjusted for each preparation | Yes |
| Programmable coffee strength in levels | 8 |
| Coffee strength can be adjusted for each preparation | Yes |
| Programmable brewing temperature | 2 |
| Hot water temperature can be programmed in levels | 3 |
| Programmable amount of hot water | Yes |
| Resettable day counter | Yes |
| Programmable switch-off time | Yes |
| Shows the number of preparations for each individual product | Yes |
| Remaining time display | Yes |
Design and materials

| | |
| --- | --- |
| Display | TFT color display |
| Height-adjustable coffee spout | 65 - 111 mm |
| Hot-water spout | Yes |
| Sound design | Yes |
Areas of use and recommended maximum daily output

Recommended maximum daily output

30

Areas of use

Own usage
Service provider
Reseller
In figures

| | |
| --- | --- |
| Water tank capacity | 3 L |
| Coffee grounds container (servings) | 25 |
| Numbers of bean containers | 1 |
| Capacity of bean container with aroma preservation cover | 500 g |
| Cable length | 1.1 m |
| Voltage | 220 - 240 V ~ |
| Current | 10 amp |
| Frequency | 50 hz |
| Power | 1450 Watt |
| Accounting systems | compatible |
| Stand-by power | 0 Watt |
| Weight | 10 kg |
| Width | 29.5 cm |
| Height | 41.9 cm |
| Depth | 44.4 cm |
| Article Number | 15114 |
 

Liquid error: Error in tag 'section' - 'related-products-jura' is not a valid section type